10CRIC APP GUIDE 2023

Betting Offer
100% Bonus Up to ₹30,000
Claim
10Cric is surely one of the best betting sites in India and it is no surprise that they also offer one of the best mobile apps for your best cricket betting experience.
This bookie app offers betting on more than just cricket though, you will find kabaddi here, football, tennis, virtual cricket and tons of esports. And then there are the casino and live casino games you can enjoy via the app, including Andar Bahar and Teen Patti.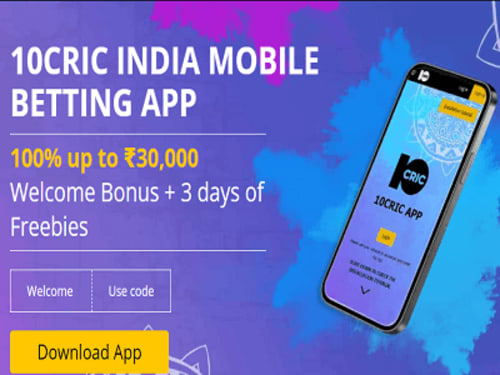 We have written this detailed app guide for you to provide you with everything you need to know about downloading, installing and simply using the 10Cric app.
We are covering all important aspects, whether you use an Android or an iOS device. Be sure to read our complete guide to not miss out on anything!
WHAT IS THE 10CRIC APP?
The 10Cric app is one of the top betting apps in India for sports betting and casino gambling with a great interface and smooth user experience downloadable on iOS and Android devices.
Get it for your mobile device to have access to some of the best cricket betting in India you can find and be always able to check your bet slip on the go.
10Cric Review for India players
HOW TO DOWNLOAD THE 10CRIC MOBILE APP ON ANDROID
If you are an Android user, you need to simply follow these steps to download the 10Cric apk app on your device:
Visit the official site of the bookie.
Scroll down to the bottom of the homepage and click on "10Cric App Information".
Find the download button for the Android app (it's huge, you can't miss it).
Your device will ask you to allow the installation of apps from "Unknown Sources", which you can adjust in your settings.
Once you have updated the permission, the apk file is downloaded on your device.
Now open your download folder and install the app.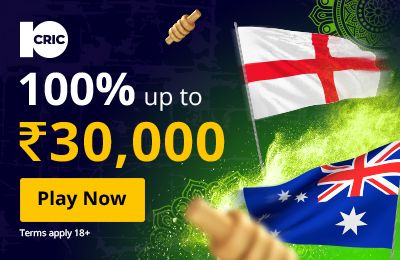 IS 10CRIC APP AVAILABLE ON GOOGLE PLAY STORE?
Alas, the 10Cric app for Android is not available in the Play Store. The only place to safely download the app is via the official bookie homepage. 
10CRIC ANDROID APP SYSTEM REQUIREMENTS
Whilst the 10Cric Android app will run on older devices that don't run the latest Android version, it is recommended that you have at least Android 10 and ideally a device with 2GB of RAM, which enables the smoothest experience.
Signup to 10Cric
HOW TO DOWNLOAD THE 10CRIC APP ON IPHONE?
You have an iOS device instead? Follow these simple steps to download the 10Cric app on your iPhone.
On your iOS device, visit the built-in app store. 
Use the search field to look for 10Cric.
Choose the first app that shows up.
Click on it and it will automatically be installed. 
IS 10CRIC APP AVAILABLE ON APPLE STORE?
Indeed, it is! Many official betting apps are available via Apple's app store and 10Cric India is one of them. That said, you are also able to download and install the bookie app from the official 10Cric homepage.
10CRIC IOS APP SYSTEM REQUIREMENTS
As per the Apple app store, the minimum requirements to install and run the 10Cric app on your Apple device are iOS 14.0 or later. The app is quite small and only needs about 12 MB of free space on your device.
HOW TO REGISTER ON THE 10CRIC SPORTS APP?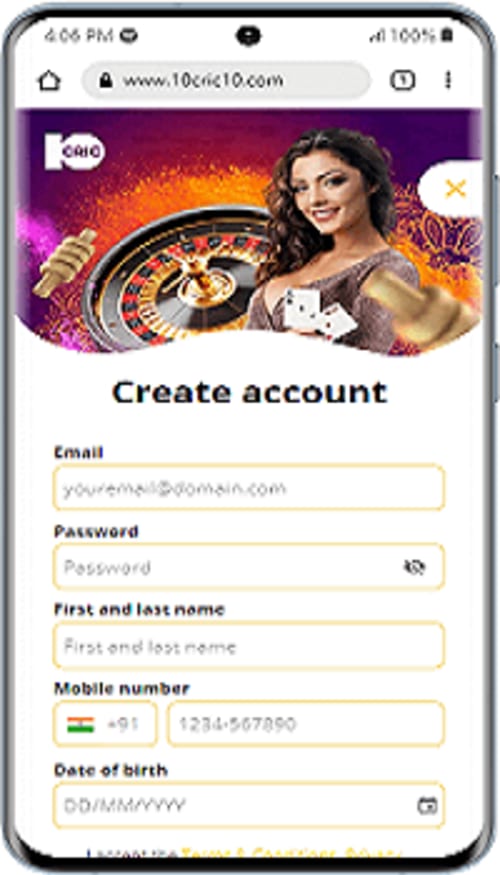 If you don't already have an account on the bookie, follow these steps to do 10cric app registration.
Once the app is installed, launch it.
Click on the "Sign Up" button at the top of the screen.
The signup form opens, and you have to enter your name, date of birth and email address.
Click on "Next" and enter your phone number and full address.
Click on "Next" again and now choose a username and password, ensure your currency is set to INR, fill in the Captcha and accept the terms and conditions.
Finally, click on "Create my account" and you're done. You will receive a confirmation email and can get started right away.
Signup to 10Cric
If you want to know this procedure in detail, visit our 10cric signup guide. Along with the registration, you can learn about the 10cric welcome bonus too.
DO I NEED TO REGISTER ON 10CRIC BEFORE I DOWNLOAD THE APP?
No, that won't be necessary as you can just as easily register via the 10Cric mobile app.
CAN YOU CLAIM THE 10CRIC SIGN UP OFFER ON THE APP?
Of course! Whether you register via homepage or the mobile app, the 10Cric Sports Welcome Bonus of 100% and up to INR 30,000 is available for you.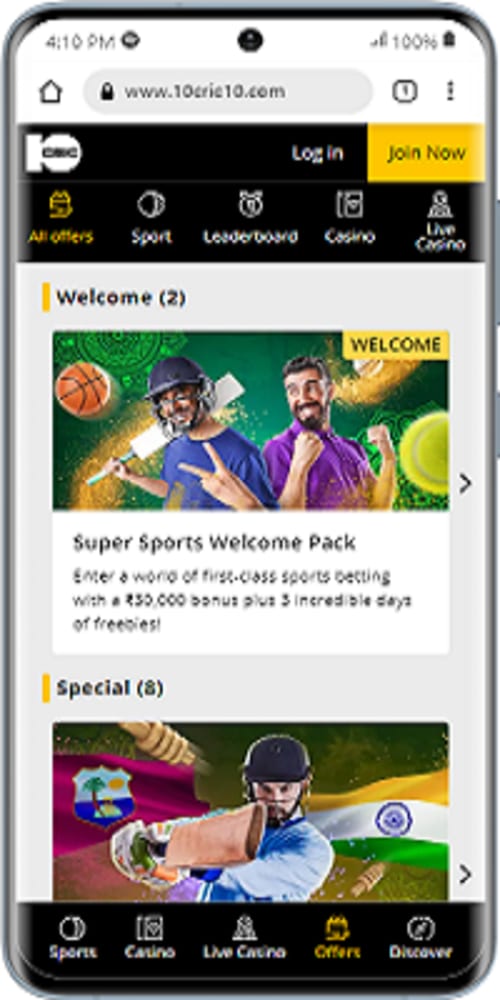 You do need to deposit at least INR 1,000 to claim the 10cric bonus and don't forget to use the code WELCOME.
CAN YOU USE THE WELCOME OFFER BONUS ON THE 10CRIC APP?
Yes, easily! When you place a bet and have an active bonus, you simply need to use your bonus funds as your source of funding when placing the bet.
 Also, the free spins that you get as part of your welcome offer can also be used via the 10Cric betting app.
CAN YOU ACCESS 10CRIC LIVE CASINO ON THE 10CRIC SPORTS APP?
Yes. At the top of the screen, you can simply click on the section you want to visit, including the casino and live casino.
Signup to 10Cric
HOW TO DEPOSIT ON THE 10CRIC APP
Before you start your online betting journey, you must have money in your account. So, here is how to make a deposit:
Sign in to your account and click on the menu button in the top left-hand corner.
Select your banking option, then click on "Deposit".
Enter the deposit amount and fill in all fields as required.
Usually, deposits are processed instantly, which means your money will be in your account right away.
WHAT DEPOSIT METHODS ARE AVAILABLE ON THE 10CRIC APP
In the 10Cric app you will find these deposit methods: 
PayTM
Net Banking
Neteller
Skrill
Mastercard
Visa 
Remember that the minimum deposit for almost all these options is INR 1,000. Specific withdrawal times are not given after 10Cric login, but they promise speedy processing times.
10CRIC APP REVIEW
If you love 10Cric, you are also really going to like the betting app as it offers most of the features you enjoy on their desktop page.
In fact, when it comes to placing bets, playing games, using bonuses and contacting customer service, you won't need to use the desktop page at all as the 10Cric bet does it all!
Additionally, it is easy to download and install and super convenient to have.
Pros
A single app for sports betting and online casino games
Available for both Android and iOS devices
Attractive user interface that is easy to use
Enabled for push notifications.
24/7 customer service available
Cons
Not available via the Google Play Store
Confined views on the smaller screen
WHY WE RECOMMEND THE 10CRIC APP
Anyone who doesn't want to hang around a desktop PC and prefers the mobility of betting via the cell phones, is well served with the 10Cric mobile app.
You get full access to the sportsbook and most games on the bookie's extensive library are playable via mobile device as well, which includes live dealer games.
And 10Cric keeps continually improving, which also extends to the app, its design and features, which makes it well worth checking out.
HOW TO USE THE 10CRIC APP?
Needless to say, before you are able to use the 10Cric app, you will need to have an account and have downloaded and installed the app onto your mobile device.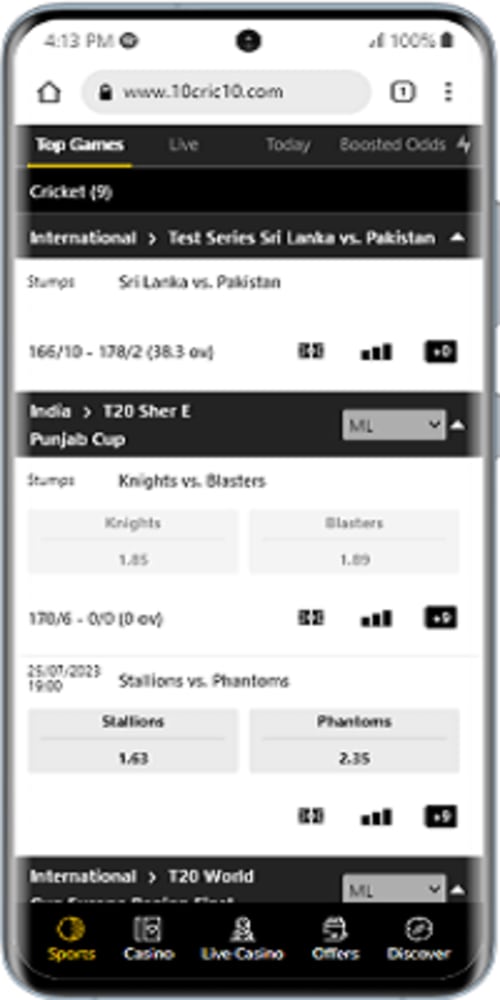 The good news is, it doesn't matter which one you do first in order to enjoy their sports betting and online games once you do have an account and the app is installed.
Signup to 10Cric
HOW TO LOGIN ON THE 10CRIC APP?
This is so easy that it shouldn't require explaining, but here you go:
Be sure that you have downloaded and installed the app.
Launch the app and hit the log-in button.
Enter your registered username and your password.
Also, clear the captcha, then hit the login button. Done!
WHAT SPORTS ARE AVAILABLE ON THE 10CRIC APP?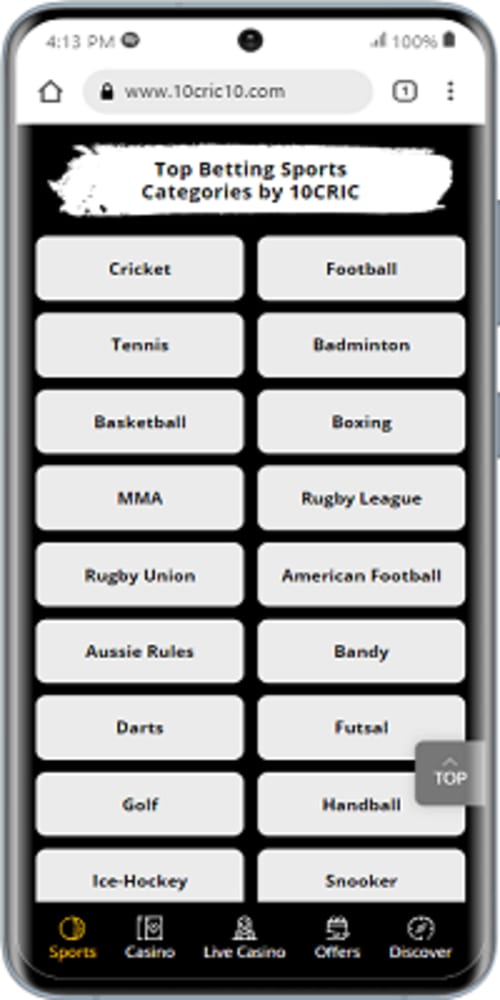 The 10Cric app has all the same sports you also find on their desktop page: 
Cricket 
Tennis 
Football 
Kabaddi 
Basketball 
eSports 
Virtual sports and much more
Also, do be sure to check them out for their special 10cric IPL betting offers and other big events as their coverage and odds are excellent.
Signup to 10Cric
HOW TO PLACE A BET ON THE 10CRIC APP
When you have created your an account on this one of the best satta apps and you can start IPL betting and gambling on other sports. This is how you do it:
Make a deposit using your preferred payment method.
Visit the sportsbook, find the event you want to bet on and the odds you like.
Add them to your bet slip. 
In your bet slip, choose your stake, verify your bet, and confirm by clicking on "Place Bet".
You can either use your own funds or bonus funds when paying your bet. 
HOW TO USE 10CRIC CASINO ON THE 10CRIC APP?
Once again, you first must have an account at 10Cric and the app must be installed. Then you follow these steps:
Launch the app, sign in and click on the casino section at the top of the fold-out menu on the left-hand side. 
Now scroll through the available games (or use the filter to find one) and click on play to start playing. (You must have sufficient funds in your 10Cric account to play for real money)
HOW TO WITHDRAW ON THE 10CRIC APP?
This is just as easy as making a deposit when using the 10Cric betting app. Follow these steps:
Login to your app.
Click on the menu in the top left-hand corner.
Visit the banking option.
Choose "Withdrawal" here.
Select your withdrawal method (preferably the same you used to make your deposit).
Then enter the amount you want to withdraw (keep the minimum withdrawal amount in mind) and continue.
Once you have completed all payment details, the withdrawal request will be processed by 10Cric and upon confirmation, your money will be deposited into your chosen account. 
Signup to 10Cric
FAQ
How to update the 10Cric India app? 
Users of iOS devices can simply check for available updates in the Apple app store and install them from there. Unfortunately, Android users will have to re-download the updated app via the 10Cric homepage again.
Why is my 10Cric app not working?
If you have trouble with your 10Cric app, you are best served to contact 10Cric for trouble shooting. But here are some things to check first:
Is your internet connection stable?
Does your mobile device have enough storage and RAM? 
Check whether 10Cric servers are temporarily down (simply visit the 10Cric homepage, where such a message would be displayed).
What is a 10Cric apk file?
If you come across a "10Cric apk", you will have found the application file for Android devices, which is just the abbreviation for apps in general. It is the file you need to install the 10Cric betting app on your device. 
Is the 10Cric app banned in India?
India currently has no laws that ban sports betting apps such as the 10Cric bookie app. That said, there is also no law in India that really legalises betting apps in India.
Is the 10Cric app legal in India?
As such, as per above, apps like the 10Cric mobile app somewhat fall into a grey area of current Indian laws. You can rest assured that you are not doing anything illegal by installing and using it, however.  
Signup to 10Cric