America is Clamouring for More Indian Films
Author: Adrian S
Posted 13 Feb 2023
When S. S. Rajamouli's epic action film RRR premiered last year in theatres across the United States, few could predict how dramatically it would capture the hearts and minds of movie lovers across the nation. In an even more unlikely turn of events, the picture's hallmark song, "Naatu Naatu", took home the prize for Best Original Song at the 80th Golden Globes, beating out megastars Lady Gaga, Taylor Swift, and Rihanna. And it's since been nominated for the Best Original Song Oscar at the upcoming Academy Awards. So has the frenzied fandom for RRR by American film fanatics sparked a newfound fervour for Indian cinema in the states?
To learn more about the future of Indian cinema in the US, we asked 2,036 Americans who watch at least two movies per month about their history of watching Indian films, and how they feel about seeing more Bollywood and Tollywood features in the future. To gain additional insights, we also took a deep dive into relevant Google search data from the past 12 months.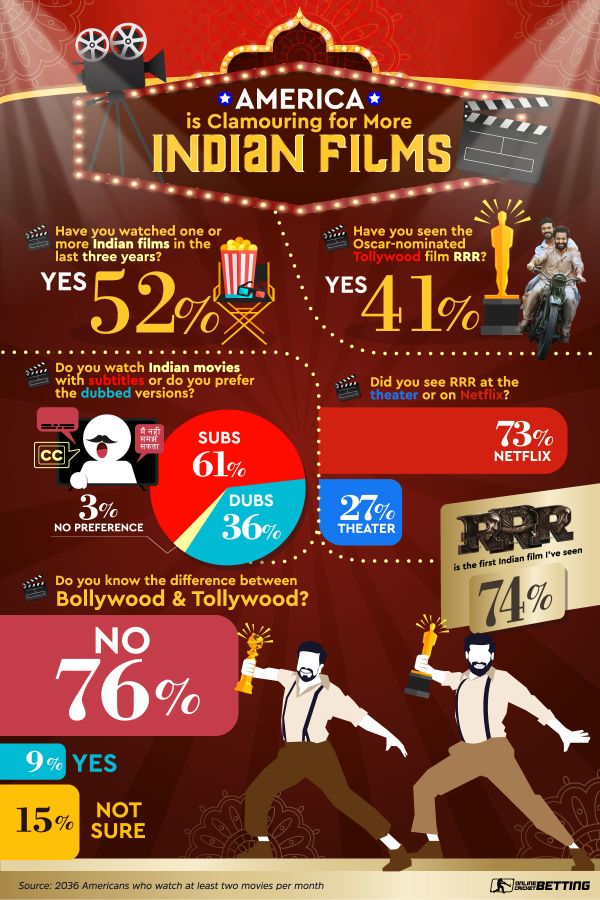 A New Era for Indian Cinema in the US
Indian cinema is poised to make waves in the US entertainment landscape in the coming years. Our research shows the rise of streaming platforms has made major strides in getting Indian films in front of American audiences. Over half (52%) of our respondents said they've watched one or more Indian movies in the past three years. Of those who responded positively, more than three-quarters (79%) told us they've seen the Oscar-nominated Tollywood blockbuster RRR — representing 41% of our total participants.
Netflix and other streaming services are revolutionising the way Americans access foreign language films. In the past, these films were often limited to small, art house theatres or occasional special screenings. But with the rise of Netflix and others, they're now just a click away. Among those who have watched RRR, 73% saw it on Netflix, while just 27% made a trip to the theatre.
In the past, foreign films have struggled to find an audience in the US due to language barriers. But the proliferation of easily accessible subtitles and dubbed versions of films offered by streaming services have made foreign language films easily accessible to US audiences in the comfort of their own home. Among our group of movie buffs, a majority (61%) said they prefer to watch movies with subtitles, rather than watch the dubbed versions preferred by 36% of viewers.
Mainstream Success for Bollywood and Tollywood
Despite a red-hot 2022, RRR remains only the second highest-grossing Indian film in US history at $14.8 million earned. Hanging on to the top spot since 2017 is another of director S. S. Rajamouli's action hits, Baahubali 2: The Conclusion, which banked $20.2 million at US box offices. However, for RRR the true American success story came from its 15-week run on the Neftlix global top 10 list of the most-watched non-English movies, the longest an Indian film has ever remained on the charts.
But is the success of a single film an indicator of demand for an entire genre? In this case, absolutely! A colossal 68% of our respondents said they'd watch more Indian films if they were offered on streaming services and in American theatres. Compare that to just 6% who would not and 26% who are unsure.
A look at Google search data for the previous year found California is the US state with the most interest in Indian films. Rounding out the top five are Georgia, Illinois, Washington, and Ohio. It's important to remember the data only reflects search volume and doesn't necessarily indicate actual viewership. Nevertheless, such a high level of interest in Indian movies in these states with relatively young populations indicated a growing appetite for Indian movies in America.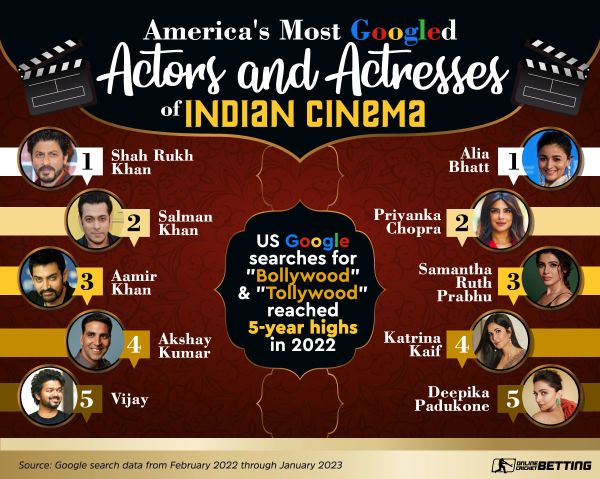 Searching for More
Despite 76% of our respondents admitting they don't know the difference between Bollywood and Tollywood, the colloquial names for India's two largest film industries, a deeper look at Google search data reveals US searches for "Bollywood" and "Tollywood" reached five-year highs in 2022.
Internet searches for the stars of Indian cinema were also on the rise in 2022. RRR star Alia Bhatt was America's most Googled actress of Indian cinema, beating out the likes of Priyanka Chopra and Tollywood star Samantha Ruth Prabhu. Among actors, it's no surprise to learn perennial favourite Shah Rukh Khan was America's most Google actor of Indian cinema in 2022. Beating out Salman Khan and Aamir Khan for the crown, 2022 marked 30 years in the film industry for the Baadshah of Bollywood.
Looking Ahead
When 2019's Parasite won the Academy Award for Best Picture, it brought South Korean cinema to mainstream American audiences. Once award season ends with the Oscars on 13 March, many expect RRR will have accomplished the same for the Indian film industry.
As the Indian film industry continues to evolve and create films that win over international audiences, it's apparent that Indian films are here to stay and will continue to have a significant impact in the United States and beyond.
Methodology
In February 2023, we surveyed 2,039 Americans who watch at least two movies per month. Respondents were located in all 50 US states, plus Washington, D.C. The average age of respondents was 38.1 years. Respondents were 59% male and 41% female.
To learn more, we compiled a list of the most popular search terms relating to Indian cinema and tracked their search volume across 2022 in each US state. We also analysed Google search trends for 50 of Indian cinema's most popular actors and actresses.