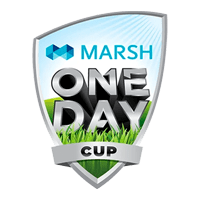 About the Marsh One-Day Cup
The Marsh One-Day Cup is a limited-overs cricket competition in Australia that has been a staple of yearly cricket competitions in Australia since 1969/70.
The format of this competitions has changed several times throughout the years as has its name, depending on who was the main sponsor.
Nowadays, the competitions features a single round-robin, which is followed by a finals series. Matches are limited to 50 overs for each side. The cup is usually held in summer over a period of several months.
As mentioned above, depending on the main sponsorship, the competition has held several names over throughout the decades:
1969/70 - 1970/71 - Vehicle & General Australasian Knock-out Competition
1971/72 - 1972/73 - Coca-Cola Australasian Knock-out Competition
1973/74 - 1978/79 - Gillette Cup
1979/80 - 1987/88 - McDonald's Cup
1988/89 - 1991/92 - FAI Cup
1992/93 - 2000/01 - Mercantile Mutual Cup
2001/02 - 2005/06 - ING Cup
2006/07 - 2009/10 - Ford Ranger Cup
2010/11 - 2013/14 - Ryobi One-Day Cup
2014/15 - 2016/17 - Matador BBQs One-Day Cup
2017/18 - 2018/19 - JLT One-Day Cup
2019/20 - 2020/21 - Marsh One-Day Cup
For the foreseeable future, we will be talking about the Marsh One-Day Cup. The format has changed almost as often as the name of the competition. Initially, it was a straight knockout competition, moved through several round-robin and carnival formats. Since 2019/20, the competition features a carnival format of 7 round games and the final.
Ford Trophy Teams
The teams that participate in the Marsh One-Day Cup represent the six states of Australia:
New South Wales Blues
Queensland Bulls
South Australia Redbacks
Tasmanian Tigers
Victorian Bushrangers
Western Australia Warriors
During the early years of the competition, New Zealand also participated with their national team the Black Caps. And in the 1990s, the Australian Capital Territory was also represented by a team, the Comets.
For three seasons since 2015/16, Cricket Australia XI also participated as a seventh team, though they have not been part of the competition since 2018/19.
The current champion are the New South Wales Blues. The current season started in September 2021 and continues until February 2022.
Betting Sites and Odds
As a long-standing Australian competition, you will find plenty of betting sites that will offer a solid selection of markets and competitive odds for the Marsh One-Day Cup. At the time of this article, the remaining matches for the 2021/22 season were still a few weeks away, which means we couldn't find markets or odds for this competition.
But we have no doubt that they will be posted ahead of the next match, which is set to take place on the 11th of February.
Some of the sites we can recommend for excellent cricket betting are:
In particular 1xBet covers a wide range of cricket competition, offering more markets than almost all other cricket betting sites we know of. Not even 10Cric, one of our favourite cricket betting sites, offers markets for as many events as 1xBet.
Predictions
Be sure to check out our Marsh One-Day Cup predictions, which we'll continue to post once the competition continues in a few weeks' time. We're very excited about this competition and hope to cover all the upcoming matches for you.
In particular the final will be interesting. After all, the New South Wales Blues are not just the reigning champion but the most successful team of the Australian first-class cricket competition.